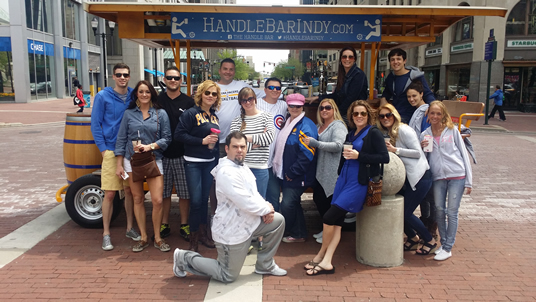 Management:
Tara Carlisle Adams, Owner (317) 319-0630
tadams0822@gmail.com
Tara is the licensed real estate broker for Alpine. She is involved in the management side of the company and plans the monthly events Alpine Capital Solutions hosts.
Aaron Adams, Founder (801) 787-0294
aaronalpine@gmail.com
Heather Brauchla, VP Rental Operations (317) 353-5399
fields2169@gmail.com
Heather collects and tracks rent, processes and approves leases, and manages evictions for Alpine Property Management.
Lincoln Gardner, President / COO (317) 512-4109
lincolntgardner@gmail.com
Lincoln is involved with day to day activity in the office and with investors as well as manages construction flow on all properties.
Heather Tenney, VP / CFO (317) 496-3122
heatherkalpine@gmail.com
Heather is involved with day to day activity in the office related to company cash flow and property sales analysis.
Construction:
Robert Miller, Construction Manager (317) 345-6949
robertmiller8282@gmail.com
Robert handles all budget creations, final inspections, and contractor progress on rehabs at Alpine properties.
Paul Box, Project Manager (317) 409-6371
Paul is in charge of lawn maintenance for vacant houses during the summer months and winterizations of vacant houses during winter. Paul also preps all houses before Alpine Capital Solutions' monthly bus tours.
Maintenance:
Katie Romanowski, Maintenance Director (765) 228-1204
kathrynromanowski@gmail.com
Katie is the liaison between our investors and the Maintenance Team for all repairs. If there is a maintenance issue at your property, Katie will be in contact with you via email or phone with details and pricing estimates.
Tiffany Boutwell, Assistant Maintenance Director (317) 514-2065
tiffanyboutwell10@gmail.com
Tiffany works with our contractors to ensure the maintenance issues are properly completed in a timely manner and our investors receive the most value for the money spent.
Lauren Hicks, Tenant Maintenance Coordinator (317) 716-9893
laurenhicks@gmail.com
Lauren receives all maintenance calls from tenants and assigns contractors to the work orders. Lauren logs and researches all calls received to ensure maintenance issues are addressed.
Investor Support/Customer Service:
Karmon Miller, Maintenance - Investor Support Director (317) 629-1944
karmon1023@gmail.com
Karmon is the correct point of contact for investors after a property closes. Karmon works with our investors to answer any questions an solve any problems that arise.
Carolyn Taylor, Tenant Relations/Front Desk
carolyndtalor47@gmail.com
Carolyn directs Alpine's visitors as they come in and collects rent at the front desk.
Anita Box, Local Government Housing Specialist 317-409-8314
anitaalpine1@gmail.com
Anita disburses all rent to owners on a monthly basis and also works within PropertyWare on new owner transfers. In addition, Anta handles all Board of Health, Code Violations and Section 8 for Alpine.
Andrew Brauchla, Field Operations Manager 317-506-4902
andrewbrauchla@gmail.com
Andrew oversees all Alpine activities in the field along with completing final inspections on all rehabs. Andrew is also a point of contact for our investors.
Beth Roehling, Accounting/Manager (317) 236-8064
bethroehling@gmail.com
Beth manages all money in and out of the company and also works within PropertyWare to ensure all investor and tenant charges are correct.
Dana Rupright, Project Manager (317) 200-6117
ddgardner1@gmail.com
Dana walks new investors through the property management software PropertyWare and gets them acclimated to company procedures. She also helps coordinate the monthly events as well as other work for Alpine Capital Solutions.
Rhonda Thurman, Billing Specialist (317) 956-7192
ladyrjt@gmail.com
Rhonda works with local utility companies during construction and for vacant properties. Rhonda also audits all invoices an bills to make sure charges are applied correctly.
Sales & Acquistions:
Jessica Bischoff, Sales Closing Manager (317) 698-5248
jessicasmileybischoff@gmail.com
Jessica manages the property sales and closing process and serves as they title company liaison.
Ellen Brown, Local Investment Manager (317) 435-2586
Ellen works with investors on a personal level with regard to property sales, focusing mostly on local Indianapolis clients. She is also a key member of the weekly Real Estate Investing Radio Show. Ellen also manages Alpine Capital Solution's Elite Program, which is made up of Alpine's most select and repeat investors.
Rebecca Brown, International Clientele Manager (317) 650-7253
Rebecca is Alpine Capital Solution's international investment manager. She advises clients from all over the world on property investments in Indianapolis, Dallas, Fort Worth, Kansas City and Orlando.
Meggan Daley, Portfolio and Acquisitions Manager (317) 319-1015
Meggan is Alpine Capital Solutions main acquisitions specialist. She works with investors from all over the country to grow their portfolios and create a profitable investment strategy. Meggan possesses real estate knowledge in the Indianapolis, Dallas, Fort Worth, Kansas City and Orlando markets.
Rachel Randolph, Sales and Acquisitions Assistant (908) 763-7402
randolph8691@gmail.com
Rachel assists in creating sales marketing documents for Alpine Capital Solutions and works with investors during the closing process.